QuietRock Sound Reducing Drywall
Posted on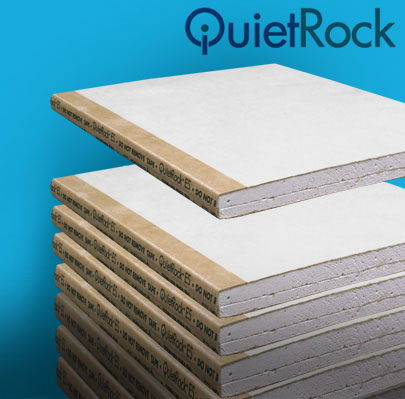 QuietRock is a technically advanced, made in the USA sound-reducing drywall that was developed in 2003 and now has more than 40 U.S. and foreign patents and patent applications. QuietRock and the Quiet line of accessories reduce sound and vibration using modern chemistry and techniques and a high-tech approach to building science. The result is a product that offers both fire resistance and high noise control and uses less space, less material and less labor than conventional alternatives.
QuietRock and the complete line of Quiet accessory products became part of the PABCO Gypsum family in August 2013.
QuietRock EZ-SNAP
EZ-SNAP is a high-performance sound reducing gypsum panel that scores and snaps like normal gypsum panels, no special tools required. With less materials installed, QuietRock EZ-SNAP saves time, labor, and valuable floor space while delivering high acoustic performance that outperforms other sound attenuation methods, including multi-layered gypsum panels, resilient channel and soundboard.
High STC performance ratings
Mold resistant
High reliability
1-hour fire rated, Type X
Abrasion resistant paper
Other QuietRock Panel Products
QuietRock 510: Cost-effective ½-inch sound damping gypsum panel ideal for installation in residential and remodels applications.
QuietRock 530: High performance structural sound damping gypsum panel that delivers superb noise reduction and impact resistance.
QuietRock 545: Multi-layer gypsum panel ideal for projects requiring high STC performance at low frequencies, such as commercial theaters, media rooms and recording studios.
Quiet Accessories
Need Some Help?
For more information or to request a quote, Contact Kamco.