Owens Corning Thermafiber® Mineral Wool Insulation Products
Posted on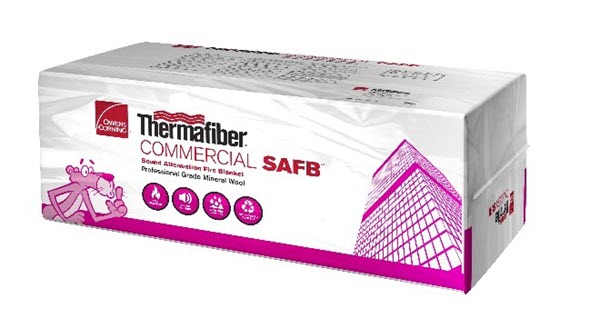 Thermafiber® SAFB™ (Sound Attenuation Fire Blankets) are mineral wool batts designed to provide acoustical control and fire protection in many different UL® fire-rated wall and floor, ceiling assemblies. These products are non-combustible, moisture-resistant, non-corrosive, non-deteriorating, mildew-resistant and vermin-resistant. SAFB™ resist temperatures over 2,000°F and add STCs to wall and floor-ceiling assemblies. SAFB™ can be installed in both steel and wood framed construction.
As an industry pioneer, Owens Corning is proud to produce the FIRST Formaldehyde-Free Perimeter Fire Containment System. The expansion of the Formaldehyde-Free Thermafiber® mineral wool insulation strengthens the impressive portfolio of industry-leading products and services. As the first formaldehyde-free mineral wool insulation in North America, the new-formaldehyde-free Thermafiber® mineral wool insulation solutions represent a breakthrough for architects, specifiers and contractors interested in achieving green building standards.
Please inquire with your Kamco rep on availability of this new product.
In addition to Owens Corning Thermafiber® SAFB™ product, Kamco Supply can also source these additional Owens Corning Thermafiber® products:
Owens Corning is a worldwide leader in building material systems, insulation and composite solutions, delivering a broad range of high quality products and services. Owens Corning is committed to driving sustainability by delivering solutions, transforming markets and enhancing lives.
More information can be found at www.owenscorning.com. ©Owens Corning 2019. All Rights Reserved.
Contact your Kamco Rep for availability and to request a quote
Need Some Help?
For more information or to request a quote, Contact Kamco.