Keep Construction Dust Contained with ZipWall® Dust Barriers
Posted on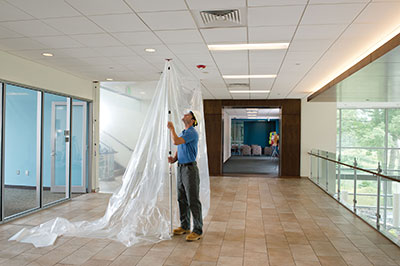 When you're doing construction, you're creating dust. When you want a quick, effective way to seal an area away from dust and debris, the ZipWall® dust barrier system uses spring-loaded poles to let you set up a tight dust barrier in minutes— no ladders, no tape, no damage.
ZipWall MagStrip™ Dust Barrier Fastener
With the new MagStrip Dust Barrier Fastener PDF, you can keep your barrier tight against a drop ceiling. Just attach the supplied magnetic strips to the applicator and snap onto the metal grid—no ladder or tape required. The barrier can be easily set up and removed using any ZipWall pole.
ZipWall Zippers & Doors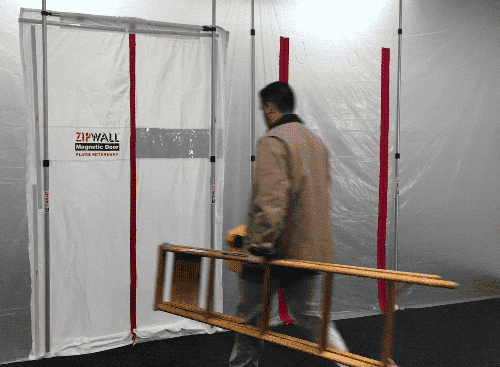 ZipWall offers door kits for standard and commercial doors, as well as heavy duty self-adhesive zippers, so you can quickly create an entryway in any plastic barrier.
With the ZipWall Magnetic Dust Barrier Door Kit, you can create a durable, professional-looking solution that's easy to install, remove and can be reused. The ZipWall magnetic door attaches to the barrier material and offers a powerful self-closing action using magnetic strips that snap together to form and maintain a tight seal.
ZipFast™ Reusable Barrier Panels
For larger work areas, ZipFast Reusable Barrier Panels can be zipped together to quickly build a dust barrier as wide as needed. Like the ZipWall door, ZipFast barrier panels are made of high-tech fabric, require no measuring or cutting, and can be reused. They're available in both a standard and a flame retardant version.
For a complete line of ZipWall products, download Kamco's ZipWall cut sheet
Contact Kamco for more info or to order ZipWall Products.
---