SMART VENT Foundation Flood Vents
Posted on
Ensuring your construction is prepared for floods not only protects the safety of building occupants and the integrity of the construction, it can reduce recovery costs and greatly lower flood insurance premiums.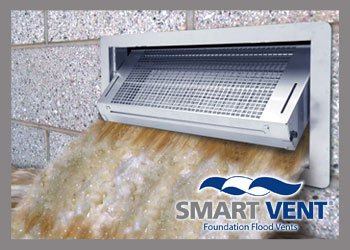 SMART VENT's line of engineered flood vents protects houses and buildings during floods by preventing hydrostatic pressure that can destroy walls and foundations. The method, called wet floodproofing, allows floodwater to freely flow in and out of an enclosure, such as a crawlspace to equalize the pressure.
Any residential building in Flood Zone Type A that has enclosed areas under the Base Flood Elevation (BFE) is required to have flood vents installed, but not all flood vents are the same. Standard air vents with screens or slats do not allow debris to flow through the opening and can therefore quickly become clogged during heavy water flow.
By contrast, SMART VENT flood vents provide a larger, unobstructed opening when floodwaters are present. The Smart Vent flood vents are usually latched closed. Rising flood water activates floats inside the vent, which automatically open the door to allow water to flow through. Because Smart Vent flood vents have a larger opening, fewer vents are required. A single 16-inch by 8-inch Smart Vent is certified for 200 square feet of flood protection.
Smart Vents are made in the USA from marine-grade T316L stainless steel, which is known for its strength, resistance to cracking and dents, and ability to withstand harsh marine and chemical environments. Contact Kamco today to request more information or to get a quote.
View the Complete Line of SMART VENT Products ›
Commercial Building Support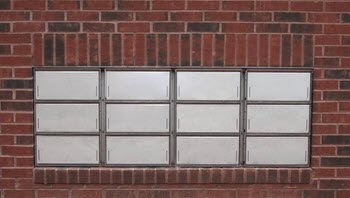 SMART VENT has a team of Certified Floodplain Managers on hand to help you with your next commercial project. Their team can help with existing plans or help design a floodproofing system to ensure you're properly protected. They have the capabilities of designing and manufacturing custom project multi-frames to accommodate their 16-in. x 8-in. flood doors. These custom frames allow you to get the required flood protection for the project square footage with fewer openings. These frames and flood doors are constructed of Stainless Steel with a variety of powder coat paint finishes available. They offer full CAD and spec writing capabilities that allow you to implement the custom frame design easily into your project drawings. They will assist in proper vent placement and help with all phases of the project to assure the flood vent system is installed correctly and is to your specifications.
Get More Commercial Support Information ›
Need Some Help?
For more information or to request a quote, Contact Kamco.