Panolam Fiberglass Reinforced Plastic (FRP) Panels
Posted on

FRP wall and ceiling panels from Panolam Surface Systems are ideal for high traffic installations requiring durability and sanitary standards as well as moisture, mildew, and chemical resistance. These are hardworking, easy-to-clean surfaces you need for utility and service areas. Kamco Supply is a stocking distributor of Panolam FRP with warehouses located in the NY/NJ metropolitan area for quick turnaround time and better ability to service our customers.
Features:
Twelve color options, two finish options (textured or smooth).
Available sizes for wall: 4' width x 8', 9', 10', 12'.
Available sizes for ceilings: 23.75" x 23.75"' or 23.75" x 47.75".
Class A or C fire rating, meeting all ASTM requirements.
Resists extreme changes in temperature and humidity.
GREENGUARD Gold Certified.
Mold and mildew will not grow on the surface of our material.
Benefits:
Easily fits with any interior style.
Minimize waste.
Able to use on any commercial project.
Easy to clean and look good for years.
Excellent for high traffic areas.
FRP Product Brochures & Technical Documents
Panolam Duet Wall Panels (Decorative FRP):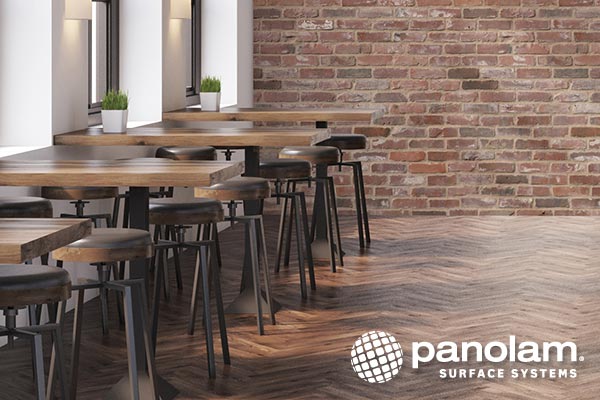 Duet Wall Panels provide wall protection for commercial interior settings that not only require strong design elements, but also demand high sanitary standards – including moisture, mold, and mildew resistance. This hard-working, easy-to-clean surface solution can help satisfy most any design vision by using digital printing, high quality inks and scratch-resistant coating. As a result, Duet Wall Panels offer high impact strength, will never rot, corrode, rust, or delaminate and come with a proprietary coating that protects against fading from ultraviolet sources. The Duet Wall Panels are not stocked by Kamco Supply but are readily available.
Benefits:
Meets ASTM requirements for Class A and C.
GREENGUARD Gold Certified.
Custom Capabilities.
Value.
Printed Moldings.
UV Coating.
Scratch Resistant with High Sanitary Standards.
Duet Product Brochures & Technical Documents
Need Some Help?
For more information or to request a quote, Contact Kamco.