High Quality Structural Decking at an Economical Price
Posted on by kamcony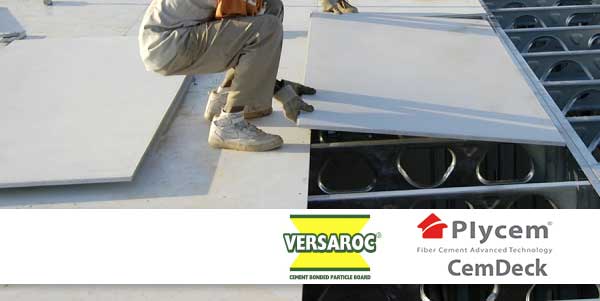 Kamco is proud to offer two of the finest structural decking products to complement light-gauge steel construction. VERSAROC®—a structural cement bonded particle board (CBPB) for use in span-rated floors, roofs, and walls—is highly resistant to fire, moisture, mold, sound, and impact. Its strength and durability make VERSAROC an excellent choice for new construction requiring higher loading capacity, and its ability to be used for roof sheathing as well as decking make it a versatile choice.
For interior applications, VERSAROC's anti-fungal properties and moisture resistance also make it ideal for cold storage, food processing and other similar areas where hygiene is paramount. For exterior uses, VERSAROC's weather resistance means it will not degrade with permanent exposure or repeated freezing and thawing (though a surface treatment is recommended).

For applications that require a non-combustible structural decking, PlyCem CemDeck is an extremely popular choice. More fire-resistant than VERSAROC (though VERSAROC offers superior strength and moisture resistance), CemDeck is more economical than VERSAROC and made in the Americas (Costa Rica). Offering the workability of wood with the strength and resistant properties of fiber cement, CemDeck was recently upgraded to include interlocking tongue and groove edges as well as a sealed finish to improve weather resistance.

VERSAROC and CemDeck offer excellent value, delivering quality and ease of use at an economical price point.Both VERSAROC and CemDeck are supplied in 4x8 sheets and available with tongue and groove edges making them easy to work with in any temperature.

---