Speed Training Webinar & Linecard: Zipwall - The Latest in Dust Barrier Systems
Posted on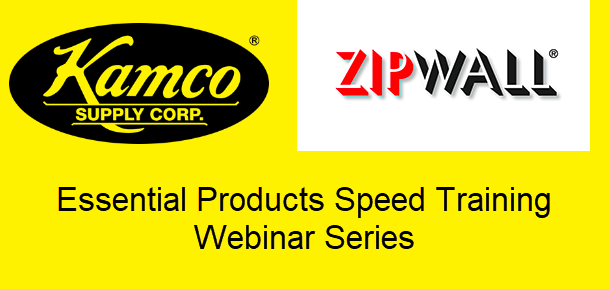 In this 20 minute webinar, the presenter from Zipwall Dust Barrier Systems will take you through the full range of Zipwall solutions in an engaging video presentation.
What you can do with Zipwall Dust Barrier Systems:
- Set up a dust barrier in minutes — no ladders, no tape, no damage!
- Provide self-closing hands-free jobsite access with ZipWall Magnetic Door.
- Create a seal against acoustical drop ceilings with ZipWall Magnetic Strips.
- Quickly create an entryway in a plastic barrier wherever you need it.
- Much more!
The webinar will be available to anyone who registers for the event and the video recording will be accessible to registrants after the event takes place.
Feedback from our previous webinars:
"Valuable information."
"Great content & well presented!"
"Great info and products."
Need Some Help?
For more information or to request a quote, Contact Kamco.